About County Line Sugar Bush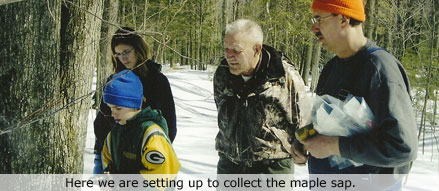 Maple sugaring has been in the Ollhoff family for four generations. We are located in north central Wisconsin on the Marathon County and Lincoln County line just inside Marathon County. This land has been in the Ollhoff family for 95 years.
We strive to make the best-tasting and best-looking maple syrup. Over the years, our process has been fine tuned and we have received numerous awards for our maple syrup. We have received various blue ribbons in the Wisconsin Maple Syrup Products' Association competition and have been on display at the Wisconsin State Fair.

See us in action by browsing Our Photo Gallery.